Imagine an ExtremeAire Compressor with TWICE the power and speed, all in a package only 2" longer than the original! Now you can have a continuous 12 volt compressor that will put out 6 CFM free flow and a whopping 2.6 CFM at 100 psi. Nothing in its size, class or price range even comes close! The ExtremeAire Magnum utilizes a 1.5 HP fan cooled motor and longer piston stroke to make the impossible possible. The Magnum has all the key features of the original ExtremeAire such as superior filtering, stainless steel hardware, heat dissipation cylinder coating and powder coated filter housing and fan shroud. Plus it can be mounted in any angle or position, even upside down! Sealed bearings mean no servicing or lubrication is necessary. Uses include filling tires, running air tools, air bags, lockers, train horns, etc. It is the perfect unit for jobsite chores or ranch duties. Since the unit is totally sealed from the elements, you can mount it under your truck on the frame rail so valuable storage space is preserved.

TECHNICAL SPECIFICATIONS
ExtremeAire Severe Duty High Output
---
The ExtremeAire Severe Duty Compressor is setting standards for high output compressors. By utilizing a 3/4 horsepower fan cooled motor, overheating is a thing of the past. Designed to fill the largest 4WD tires or the highest-pressure RV tires, this unit can fill tires continuously with no fear of motor burnout. With a 150psi working pressure, you can fill air tanks and run impact wrenches to dismount and mount wheels easily. For clean air in the dirtiest environments, the ExtremeAire uses an oversize UNI-Filter that is crush proof, washable and reusable. All major motorcycle teams use UNI-Filters for Baja and motocross racing. In addition, the fan shaft has a sweeper filter to keep dirt and debris out of the motor and brushes, at the same time, allowing moisture and condensation to escape. The ExtremeAire is permanently lubed with sealed bearings so it can be mounted in any position making installation much easier. Every ExtremeAire utilizes stainless steel fasteners Loctited for a long and trouble free life in the highest vibration applications. Uses for the ExtremeAire include 4WD, RV, Agricultural, Construction, Motorsports, etc. This unit, in its portable version, is being used US Special Forces for Hummers that didn't come with Central Tire Inflation from the factory.
EXTREMEAIRE € 500.00 +VAT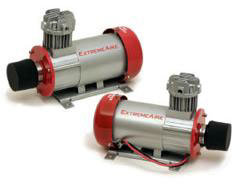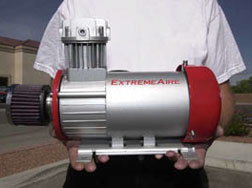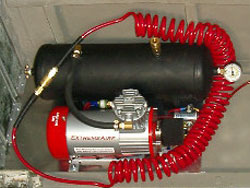 EXTREMEAIRE IN D90 BATTERY COMPARTMENT
TECHNICAL SPECIFICATIONS
- 3/4 Horsepower motor
- 60 A at 180 PSI
- 30 A at 30 PSI
- Continuous duty at 150 PSI
- 4 CFM free flow rate
- 1.3 CFM at 100 PSI
- Fills 33x12.50R15 from 12 to 30 PSI in 1' and 30"
- Length 14"
- Heigth 10"
- Width 6"
- Weigth 17 lbs
ExtremeAire jr.
---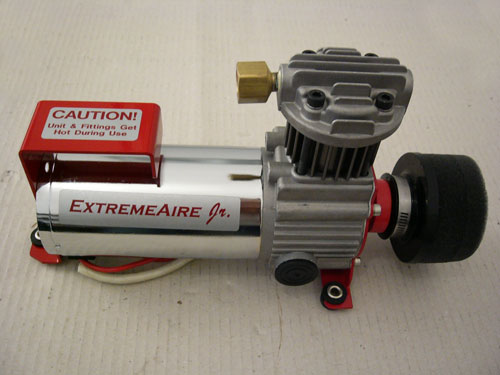 The best small air compressor. Capable of 1.8 CFM and 150 PSI. 40% Duty Cicle. Stop looking for "toys"!
- Length 10.5"
- Width 4"
- Heigth 6.5"
- Weigth 6 lbs
EXTREMEAIRE JR. € 270.00 + VAT

Belt Driven Compressor/Endless Air
---
This compressor puts out a whopping 8 CFM at 100psi. Capable of 200psi, the unit has a greasable zerk fitting for lubrication and is painted a hammertone blue. Endless Air compressors will fill tires, run air tools and can be used whenever large volumes of air is needed. Each unit is manufactured with the highest quality components for the ultimate in performance. The compact size makes for easy installation. Dimensions are 5.5" in diameter, 8.5" long with eight mounting ears. This is the ultimate compressor for speed, volume and performance. 55 seconds to inflate a 33" tire, 25 seconds to bring it from 14 to 32 PSI!
ENDLESS AIR € 625.00 + VAT