Kalahari Discovery Series II
---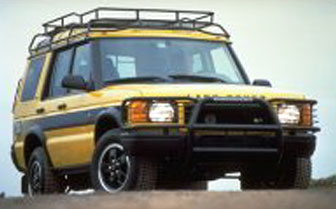 click here for english
---
Il Discovery Series II Kalahari è stata una Limited Edition costruita in pochi esemplari (150) dalla Land Rover Special Vehicles per il mercato Nord Americano e che è stato possibile acquistare a partire dall'ottobre del 2002 per circa 40000 US $ . Con questo modello la Casa inglese ha reso disponibile una vettura dalle capacità fuoristradistiche esaltate e dal look distintivo che richiama molto quello del Discovery suo antenato il Series II Trek allestito nel 2000 per il Land Rover Trek '00, una competizione interna riservata a team formati da personale dei vari concessionari americani. Il Kalahari è equipaggiato da un 4 litri V8 da 188 hp ed ha una targa distintiva con il numero di produzione.
Le caratteristiche sono elencate di seguito
The 2002 Land Rover Discovery Series II Kalahari is has been another Limited Edition for the North American market. All Kalahari series vehicles will be produced in limited numbers (150 units) by Land Rover Special Vehicles. It is the descendant of a true competition vehicle – the Discovery Series II TReK – which was purpose built for the Land Rover TReK '00, an off-road driving challenge for Land Rover retailers that took place in the Y2K.
Discovery Kalahari comes with a 188-horsepower, 4.0-litre aluminum V8 engine A special-appearance package and a badge stamped with the vehicle's limited-production build number complete the Kalahari specification.
It will cost approximately $40,000.
2002 LAND ROVER DISCOVERY SERIES II KALAHARI FEATURES
Esterno

Colore Giallo Borrego.

Griglia e paraurti Gulf specifications.

Portapacchi in acciao con pavimento calpestabile.

Bull bar,griglie parafari e scala in acciaio.

Cerchi in lega "Typhoon" da 16 con razze verniciate in nero ed parte esterna lucidata. Pneumatici 255/65R16

Targa Kalahari con numero di produzione.

Antinebbia anteriori e posteriori.

Gancio traino di classe III integrato.

Optionals: Active Cornering Enhancement (ACE), Self-Leveling Rear Suspension (SLS) and Cold Climate Package (che include parabrezza e sedili anteriori riscaldabili)

Interni

Pannelli e strumentazione in grigio Smokestone.

Sedili bicolore (nero e grigio) rivestiti in "Tetra".

Consolle centrale con copertura in pelle, maniglie degli sportelli in pelle.

Impianto Hi-Fi da 220 Watt con 12 casse, controllo sullo sterzo, 6 Cd auto-changer.

Tetto apribile
---
© RoverWorld 2000-2011. All Rights Reserved.